Zadanie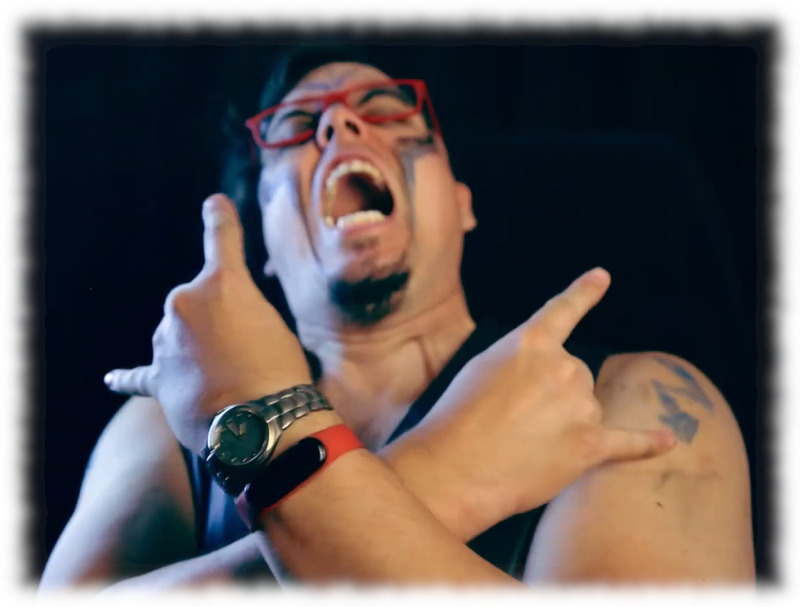 Prvým bohom, na ktorého ste narazili, je Zeus. Teda, momentálne sa rozhodol, že si bude aj v nominatíve hovoriť Dio a tvári sa, že je bohom heavy metalu osemdesiatych rokov. Ako ho poznáme, asi chce na to zbaliť nejakú ženskú. Vám ale táto informácia nijak nepomôže. Jeho priazeň si môžete získať len tak, že vyriešite nasledujúcu, s heavy metalom nesúvisiacu šifru.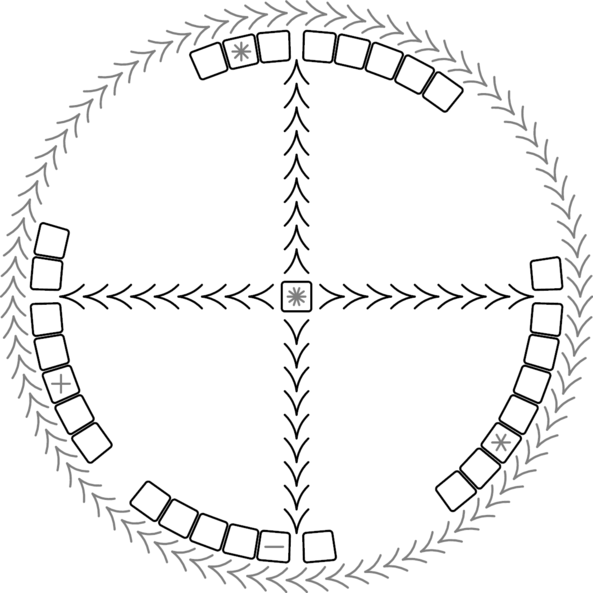 Klikni na zadanie, uvidíš obrázok vo vyššom rozlíšení.
Zo STREDu idú šípky HORE, DOLE, vĽAVO a vPRAVO. Toto kolo hry má aj iné šifry, nielen túto jednu.
Toto bola prvá metašifra. Pre tímy, ktoré sa s týmto konceptom ešte nestretli, mohlo byť najťažším krokom uvedomiť si, že zadanie nie je riešiteľné samo o sebe ale treba na to ešte čosi iné. Tou chýbajúcou informáciou sú tajničky ostatných šifier tohto kola. (Šifra Héra toto o sebe dávala výraznejšie najavo, takže ak ste na prvý pokus neuspeli tu a časom ste sa dolúštili až k nej, mohla potom ona zafungovať ako nápoveda zadarmo.)

Tajničky tohto kola majú v sebe ako podreťazce polohy na našom kruhu zo zadania: STRED-A nám hovorí, že v STREDe je A, BLA-HORE-ČENIE zase že HORE treba napísať BLA a ČENIE. Šípky po obvode kruhu utvrdzujú v správnom poradí čítania / vpisovania. Takto vyzerá vyplnené zadanie:

No a už len zo zvýraznených políčok prečítame tajničku a úloha je hotová.

Táto metašifra následne ponúka veľmi efektívnu možnosť "backsolvingu": ak ste ju zvládli vyriešiť z menej ako piatich riešení jednotlivých šifier, viete následne dosť efektívne povedať, ako musia vyzerať tajničky tých ostatných. V niektorých prípadoch takáto informácia vie pomôcť pri ich riešení, v iných dokonca stačí na uhádnutie celej ich tajničky. Napríklad ak ešte nemáte vyriešenú šifru idúcu dole, viete priamo z riešenia tejto metapuzzle povedať, že jej tajnička bude zrejme niečo tvaru _DOLES____ alebo _DOLUS____.